Back to PMA Store
2023 Up to the Minute Advertising - 4 Issues
Advertising | Up to the Minute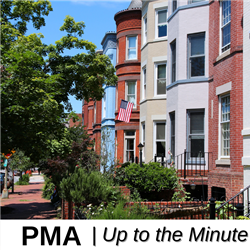 2023 Up to the Minute Advertising - 4 Issues
PMA's official newsletter, Up to the Minute, is published weekly and issued electronically to more than 11,000 members located in the local DMV market. By advertising in Up to the Minute, you'll not only generate brand awareness, but you can link your ad to your webpage, social media or any online medium to get more bang for your buck.
Preparation Cost
There is no preparation charge beyond the regular cost per insertion fee for camera-ready copy. Design, typesetting and layout services are available. The fee is contingent upon the level of effort required. No work will be performed, or additional fees charged unless approved by the advertiser.
Payment
Payment in full is required to guarantee ad placement unless credit has been established. Contract rates are available only when the contract is paid in advance. Refunds will be issued but the amount will be based on the prevailing contract price. All contract rates are honored even if rates are increased during the term of the contract.
Deadline
Insertion order is required no less than 7 days prior to publication date (Monday of every week). Camera-ready artwork is required no less than 7 days prior to publication date (Monday of every week).
Acknowledgement and Authorization
I affirm that I am authorized to make the above commitment on my company's behalf. I have read and understand the benefits associated with this agreement and agree to pay in accordance with PMA payment terms. I understand that this form becomes a contract when submitted.
All cancellations must be received in writing 45 days prior to the publication date (first of each month). After the closing date, the advertiser is responsible for 100 percent payment of the ad space for that issue pursuant to the contract.
---