Back to Events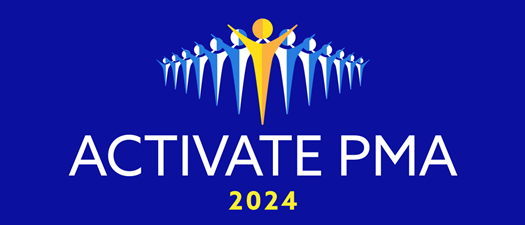 ACTIVATE PMA 2024: Annual Kickoff Meeting
Unleashing Your Lifter Leadership Style for Peak Performance
Thursday, January 25, 2024
* Registration open until 1/24/24 at 12:00 PM (EST)
Event Details
Join us at our annual kickoff meeting, Activate PMA 2024, for an unforgettable leadership experience that will transform the way you approach your role and empower you to become an exceptional leader. In a world where leadership is evolving, where everyday actions have the power to lift not just individuals but entire organizations, we present to you the theme: Elevate & Activate: Unleashing Your Lifter Leadership Style for Peak Performance.
About Lifters:
Lifters are the heart and soul of leadership, individuals who go above and beyond to lift their colleagues, customers, community, and company performance, all with a clear purpose. They understand that leadership is not just a title; it's a commitment to making a positive impact on those around them.
What to Expect:
Inspiring Keynote Speaker: We have partnered with the CEO & Founder of Lifter Leadership Training, Paresh Shah, who will share his insights on evolving leadership styles, the power of lifting, and how it translates into peak performance for organizations.
Interactive Session: Engage in a hands-on experience where you can discover and nurture your unique Lifter Leadership style.
Networking Opportunities: Connect with like-minded professionals, share experiences, and build valuable relationships that can elevate your leadership journey.
Practical Takeaways: Leave with actionable strategies and tools to implement your Lifter Leadership style in your workplace immediately.
Who Should Attend:
If you're a leader, aspiring leader or simply someone who wants to make a difference in your professional and personal life, this event is for you.
**Don't miss this opportunity to Elevate & Activate your Lifter Leadership style and unlock the full potential of your leadership journey. Join us at Activate PMA 2024 and become the leader who transforms, uplifts, and drives peak performance.**
---
About the Keynote Speaker:
Paresh Shah is a unique combination of a media technologist, Harvard MBA, successful entrepreneur, creative and trained mindfulness yogi. His abilities to cross multiple worlds have made him a sought after Executive Coach, leadership and team trainer, meeting facilitator, keynote speaker, strategist, and advisor to senior executives.​
Paresh has provided thought-leadership to clients across industries for over 30 years, and has conducted business in 22 countries. His thinking has been featured at leading conferences such as TedX, SXSW (South by Southwest), Wisdom 2.0, International Yoga Expo, Junior Achievement Global, (WBEC) Women's Business Executive Conference, (NMSDC) National Minority Supplier Diversity Council, International Advertising Expo, Disrupt HR, Ignite Talks, and other major conferences and corporate events. Paresh has also been featured in publications such as Forbes, CEO.com, Inc., Entrepreneur, Psych Central, Smart CEO and Killer Startups.
Paresh helps clients drive performance by applying his expertise to help to motivate, engage and retain key talent, address the rampant stress and overwhelm leaders and their teams are feeling, and cultivating deeper customer loyalty. His executive coaching clients describe him as "someone who deeply cares for their success, insightful, highly practical and can relate to people of all ages and backgrounds". ​
Paresh is a top rated Adjunct Professor of Leadership and teaches in Executive Education and MBA programs. He was an early executive at Monitor Company, a strategic consultancy formed by several Harvard Business School professors including World-renowned strategist Michael Porter. There, he served numerous clients in strategy, organizational effectiveness, and revenue maximization. He also was part of the senior team for organizational development and leadership training for internal teams and clients. ​
Paresh unites the analytic, action-driven business mindset typical of an MBA education with leading-edge approaches to human performance, organizational excellence, creativity and ancient wisdom. He is popular yoga and mindfulness instructor in Los Angeles. In 2017, Paresh was invited by His Holiness the Dalai Lama to his home in India, to be a participant in a 3-day symposium, along with 30 other thought leaders to discuss solutions to global challenges of poverty, and enterprise to create a world that works for all.
Paresh received his MBA from the Harvard Business School and served as an officer of Harvard University. He studied Mechanical Engineering at the University of Maryland and worked at Northrop Grumman in Aerospace for many years. Learn more about Lifter Leadership here.