Executive Forum
The PMA Board of Directors is excited to launch the PMA Senior Executive Forum to connect property management company executive-level staff to discuss and collaborate on improving all areas of company operations and their professional and personal lives.
Through the Senior Executive Forum, participants will help each other improve their business practices to become more efficient and effective while anonymously sharing best practices with other PMA members.
---
EXECUTIVE FORUM MEMBERSHIP
Participation in the group shall be limited to those with senior executive responsibilities at PMA-member Property Management Company. These top-level executives, including but not limited to C-level executives and vice presidents, are responsible for making key strategic decisions affecting their business and company.
PMA's Board of Directors has extended an invitation to participate to a single executive-level staff member of each PMA property management company member.
---
EXECUTIVE FORUM MEETING TIMING, FORMAT AND TOPICS
The inaugura Executive Forum meeting, What Keeps You Up at Night?, is an invitation-only event being held on Friday, October 21, 2022 at the Gaylord National Resort & Convention Center.
Moving forward, the group will establish a quarterly meeting date to:
Offer a consistent peer group experience.

Formally assist each other with business challenges.

Identify successful practices that can be shared with other PMA members and Associate members as appropriate.
Future meetings may be virtual or in-person depending on Forum member preferences.
Discussions will be strategic rather than tactical. Meeting topics will be determined by Executive Forum members based on their top priorities. The following are just a few examples of potential areas and issues that the Executive Forum may address:
Personal/Professional Development:

Work-Life Balance;

Ownership/C Suite Relations and Growth Management

Personnel:

Company Culture,

Succession Planning and

Benefits and Compensation

Operations:

Creating Efficiencies,

Measuring Performance and Cost Control

Trends and Forecasting: Economic, Staffing and Technology
---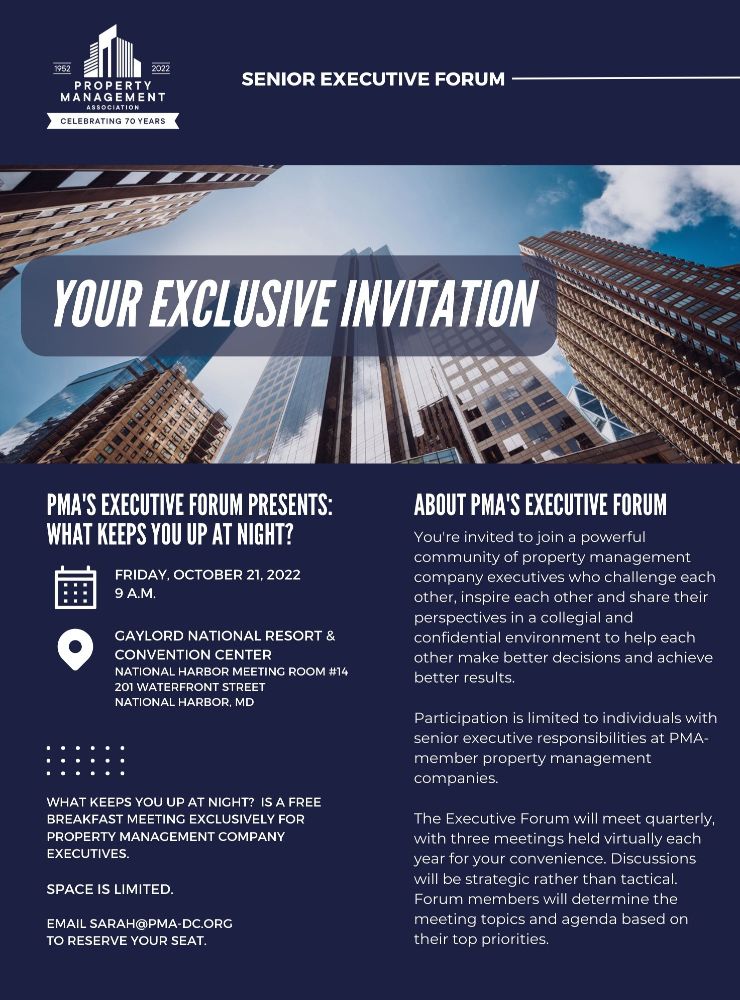 ---
QUESTIONS? Contact Sarah Patterson.